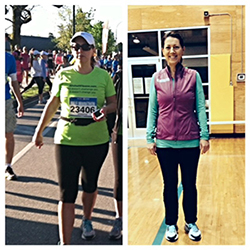 Not easy to get workouts in when you have career where you travel and work long hours….sounds familiar, right? After struggling with arthritis and other foot/leg issues, low energy and weight gain Jen decided she was ready to do something.
She joined Seattle's Best Boot Camp with her buddy and enjoyed the camaraderie, being outdoors and getting her workout in (at 5:30am) before her busy day begins. Unable to run because of injuries last May, she walked the Vancouver Half Marathon.
Jen also began adding more healthy fats to her diet, trying to ramp up the vegetables and she went gluten free. Her inflammation went down and her energy level increased. She immediately felt the difference in her body.
Today Jen is 20 lbs lighter and her body fat has decreased 11%! She is currently in Boot Camp 3x per week, doing Barre, running and will be participating in the Ragnar Relay AND the Vancouver ½ marathon this year. It's been REALLY AMAZING to watch the difference in her movement
The thing she loves about Seattle's Best Boot Camp is the group of women that she has met along the way. Always willing to help others (humans and animals too!), Jen's advice is "listen to your body" and to find your community.
Sure has been exciting to see her feel more confident, get stronger and feel better