Welcome to Vietnam!
Kirchoff Fitness Adventures will be teaming up with Zoom Zoom Travel and Buffalo Travel, both local Vietnamese adventure travel specialists, to take you off the beaten path, while providing an opportunity to trek in rural Northern Vietnam, cruise Halong Bay, and cycle along the amazing Mekog River. We will also have the opportunity to support local businesses and give back to the community by spending time with the garden project recipients of Quang Tri in central Vietnam with Peace Trees Vietnam.
Tour Summary: Itinerary in Brief
Day 1 | Sat, Feb 25, 2017
Arrive Hanoi with Guide
Chris will meet everyone at Airport upon arrival and help you transfer to your hotel. Have a casual morning and meet in the afternoon for a walk around the charming Old Quarter of Hanoi.
Our guide will take us to try some delicious local street food.
Welcome to Vietnam!
Meals: Dinner
Lodging: May de Ville Old Quarter Hotel (Deluxe Room)
Day 2 | Sun, Feb 26, 2017
Hanoi — Countryside Cycling
After a quick safety briefing and gear check you will jump on your bike heading toward the countryside of Hanoi. Begin by crossing one of Hanoi's oldest bridges, the Long Bien Bridge. Experience the beauty of Vietnam's scenery as you cycle through the back roads and along the banks of the Red River. Enjoy havingcup of tea and fruit with the local farmers. Continue cycling through banana and vegetable farming area in the middle of the Red River Island. There will be an opportunity to stop and take photos of the gorgeous scenery. The route also takes you past the Red River's floating houses and fields of colourful flowers. Have lunch at a local vietnamese restaurant.
After lunch, take a ferry across the uông river and continue riding through villages with gardens and traditonal houses, ancient temples and pagodas, and rice fields. You will visit a nearby temple and head back to Hanoi. Celebrate with local Hanoian dishes and a beer. Return to Hanoi at 6pm.
Meals: Breakfast, Lunch, Dinner
Lodging: May de Ville Old Quarter Hotel (Deluxe Room)
Day 3 | Mon, Feb 27, 2017
Mai Chau — Trekking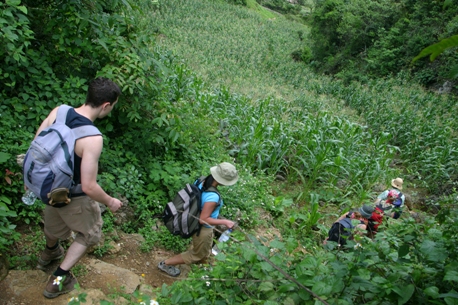 Leave Hanoi behind and travel by private car to Mai Chau. When you arrive you'll have a delicous homemade lunch at your homestay. Drive to Eo Ken village a small ethnic Thai village, and enjoy the tranquillity of the paddy fields and interacting with the local people. You'll set off on a t 2-4 hour trek where limestone peaks climb in the background and banks of green line the road, and you'll take regular stops to admire the view across the lush valleys.
Tonight you'll enjoy local hospitality in a simple stilt-house homestay in the village of Poom Coong. Your gracious hosts will cook up a fabulous meal.
Meals: Breakfast, Lunch, Dinner
Lodging: Stilt House in Pom Coong Village
Day 4 | Tues, Feb 28, 2017
Mai Chau to Hanoi
Begin your day with breakfast at your homestay and go for a 3-4 walk through the minority villages through the Mai Chau Valley. Make your way to the peaceful town of Mai Chau is situated in a stunningly beautiful valley surrounded by gorgeous green mountains and rice paddies. Mai Chau is famed for its breathtaking scenery and friendly hilltribe peoples. Return to Hanoi by 6pm for a good night's rest.
Meals: Breakfast, Lunch
Lodging: May de Ville Old Quarter Hotel (Deluxe Room)
Day 5 | Wed, Mar 1, 2017
Hanoi to Halong — 1 Night Cruise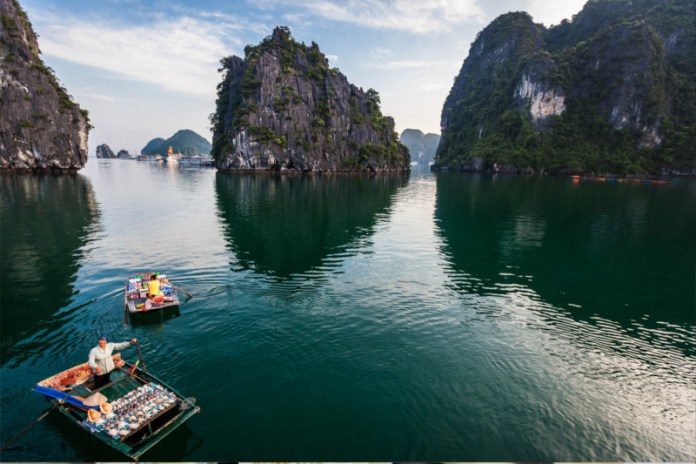 Depart from Hanoi and travel by road to the Tuan Chau Island pier in Halong Bay. Set off on Pelican Cruise, where you'll be pampered in style and comfort whilst meandering through the towering limestone cliffs and emerald green waters of Halong Bay. Stop to explore the inner workings of a cave and discover the bizarrely shaped stalagmite and stalactite formations there. Or enjoy kayaking, depending on the time of year.
Head to an island for climbing up to a scenic peak overlooking the bay, lounge at an exclusive beach or lounge onboard and watch the sun set with a happy hour drink in hand! Spend the rest of the evening as you'd like: watch a movie in dining area, relax on deck with a cocktail or get a massage 🙂
Meals: Lunch, Dinner
Lodging: Pelican Cruise
Day 6 | Thurs, Mar 2, 2017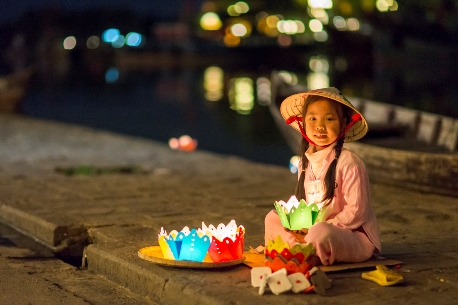 Halong to Hanoi to Fly to Hue
Rise with the sun and practice the ancient art of Tai Chi on the sundeck while taking in majestic views of the surrounding bay and the cool sea breeze. Wrap up your experience with a floating village visit by traditional rowboat or kayak on your final day - a rare chance to see how locals carry on their daily lives on the water. Spend your last few hours drifting through the bay as you enjoy a scrumptious brunch buffet en route to the main port, and then onwards to Hanoi, arriving mid-afternoon.
Please note: Itinerary subject to change or cancellation due to weather conditions.
Your guide will meet you at your hotel and transfer you to the airport for your flight.
Upon arrival into Hue, a guide will be waiting to transfer you to your hotel.
Meals: Breakfast, Dinner
Lodging: Festival Hue (Deluxe)
Flight: Hanoi to Hue
Day 7 | Fri, Mar 3, 2017
Hue — Half Day City Tour to Peace Trees Vietnam — Quang Tri
Our half day tour starts with a trip to the ancient walled Citadel containing the former Imperial Palace. The Citadel was closely modeled along the lines of the Forbidden City in Beijing. After that, we will set out on a tour to see the final resting place of the Emperors by visiting Tu Duc Royal Tomb.
After lunch, heading to Quang Tri to visit Peace Tree Vietnam (PTV)
http://www.peacetreesvietnam.org/
Meals: Breakfast, Lunch; Dinner by PTV
Lodging: Accommodations by PTV
Day 8 | Sat, Mar 4, 2017
A Day at Peace Trees Vietnam – Quang Tri
Day at leisure On PTV arrangement
Meals: Breakfast, Lunch, Dinner
Lodging: Accommodations by PTV
Day 9 | Sun, Mar 5, 2017
Hue to Hoi An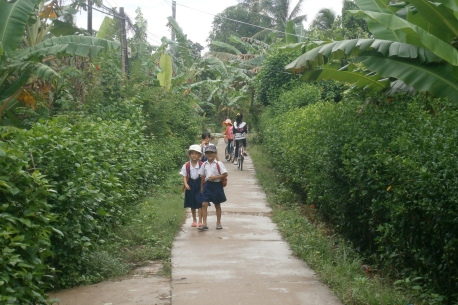 Today drive south to Hoi An over the scenic Hai Van Pass probably the most scenic stretch of coastal road in Vietnam!
Hop on a bicycle for a picturesque half day tour of the countryside surrounding Hoi An. Pass rows of serene rice paddy fields en route to Cam Thanh village where you'll get a taste of local life. Once a shelter for locals and soldiers during the war, the village is now famous for its thatched roof cottages, woven from water coconut leaves of the region. Spend some time with a local family and learn about the villagers' way of life. Then, board a bamboo basket boat and learn how to catch crabs alongside local experts. Take a well-earned rest and savour the refreshing flavor of fresh coconut water before cycling on to Ha Linh lantern workshop. There, you'll learn how to make these delicate creations in a hands-on master class, and take home your very own. Enjoy the charming scenery as you cycle back to Hoi An.
Set off on a culinary adventure in Hoi An to discover the flavours and dishes that make this coastal town unique. Alongside an expert local guide, your journey introduces you to the stories behind Hoi An's most iconic dishes at the town's most famous eateries.
Start your tour at a local restaurant famous for white rose dumplings, found exclusively in Hoi An. Sit back and enjoy the wonder of the locals working here, who churn out up to 6000 of these dumplings every day! Your visit here includes a chance to try making a few of your own dumplings before sampling a few.
Down a nearby alley, depart the dumpling shop and head onward to another local specialty: banh can crackers. Served with quail eggs, pork and a tasty salad, this dish is a highlight of Hoi An street food culture. Pull a small streetside stool and enjoy with your guide.
Continue onward to sample grilled pork satay and spring roll at a local restaurant. Next up is fried wonton — lovingly referred to as "Hoi An pizza" — and finally famous Cao Lau noodle or chicken rice. Wrap up the tour with a stop at Sky Coffee Bar, a local favourite haunt within the Hoi An Museum. Chat with your guide over a beverage here before heading back to your hotel.
Meals: Lunch, Dinner
Lodging: Thuy Duong 3 Hotel (Deluxe)
Day 10 | Mon, Mar 6, 2017
Hoi An — Cooking Class at Morning Glory
Begin your half-day culinary tour at Vy's Market Restaurant in downtown Hoi An, one of central Vietnam's tastiest eateries and cooking schools. Embark on a short boat ride towards a nearby market, and wander through the stalls with a local guide to learn more about the uses of fresh noodles, dried spices and fresh herbs. Grab a taste of some exotic fruits before heading back into town by boat.
Arrive back at Vy's Market Restaurant and set off on your exploration of a unique interactive dining venue that's the first of its kind in Vietnam. Get hands-on with the chance to see, smell, taste, touch and interact with countless food making processes. Sample dishes from 10 different food counters, see how rice paper is made from ground rice and water, try out a bun noodle machine and see how Hoi An's famous 'Cao Lau' noodles are rolled, hand cut and steamed by hand.
After grabbing a few final samples from the food counters, head in for a cooking class with expert local chefs. Get a quick demonstration before rolling up your sleeves and trying your hand at creating the same dishes from scratch. Round up your culinary adventure with a sit-down meal to enjoy your dish, and go home with a copy of the recipes and a Vietnamese cooking utensil as a keepsake.
Please note: Class on shared basis
Your guide will meet you at your hotel and transfer you to the airport for your flight.
Upon arrival to Saigon, your guide will be waiting to transfer you to your hotel.
Meals: Breakfast, Lunch, Dinner
Lodging: Signature Saigon Hotel (Deluxe Room)
Flight: Danang to Saigon
Day 11 | Tues, Mar 7, 2017
Ho Chi Minh City to Can Tho — 40km Cycling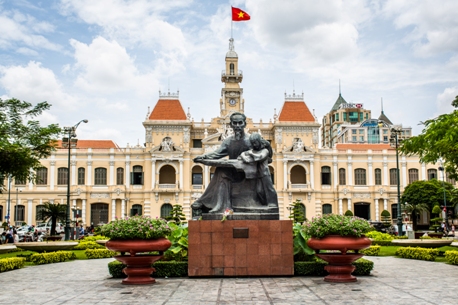 This morning drive from Ho Chi Minh City to Cai Lay a town at the entrance of the Mekong Delta. After a quick safety briefing and gear check, grab you bike and start your 40km ride along a series of paved and dirt paths. Cycle through small villages, rice fields and fruit orchards, where you will see daily life unfold, wave to the kids as they go to school and see farmers tending to their animals and crops. Take a boat cruise to see traditional floating market and visit home-based factories producing rice popcorn and coconut candies.
Meals: Breakfast, Lunch, Dinner
Lodging: Ninh Kieu Hotel (Superior River View)
Day 12 | Wed, Mar 8, 2017
Can Tho to Ho Chi Minh City — 30km Cycling
It's an early start to the day as you take a small boat and cruise to the Can Tho market, the busiest floating market in the Mekong. Watch the daily ritual of people haggling for goods and grab a morning coffee at the local floating café! Enjoy your last cycling day pedaling along country roads to see a historic communist base. Glide quietly on a sampan around the base and discover how the communists lived and worked during the war.
Afterwards, drive back to Ho Chi Minh arriving late afternoon.
Meals: Breakfast, Lunch, Dinner
Lodging: Signature Saigon Hotel (Deluxe Room)
Day 13 | Thurs, Mar 9, 2017
Depart Ho Chih Minh City (with Guide)
Your guide will meet you at your hotel and transfer you to the airport for your flight.
Meals: Breakfast
Hotel Descriptions
Hanoi: May de Ville Old Quarter Hotel
Located a stones throw away from Hoan Kiem Lake, May De Ville offers spectacular views of the Old Quarter and air-conditioned rooms with a flatscreen TV and laptop, modern interiors and wooden flooring. En suite bathrooms are fitted with shower and a bathtub. The hotel's restaurant serves both local and Western dishes, while the bar offers cocktails accompanied by panoramic city views.
http://maydevilleoldquarterhotel.com/
Halong: Pelican Cruises
Discover the natural wonder along gorgeous Haolng Bay with Pelican Luxury Cruises. Pelican Cruises makes the effort to create a one of a kind experience and is the choice of eco & sustainable experiences all while traveling in style. The warm, friendly staff and finer touches make all the difference to your stay.
www.aphroditecruises.com
Hue: Festival Hue
Festival Hue is located in the heart of the city just 500 metres from Huong River and Trang Tien Bridge. Rooms at the hotel have free WI-FI, a balcony, satellite TV and a tea/coffee making facilities. The restaurant serves authentic local dishes and to unwind there is a massage room, a sauna and an outdoor swimming pool.
www.festivalhuehotel.com.vn
Hoi An: Thuy Duong 3 Hotel
Located in the heart of Hoi An. The hotel has 45 oriental and western styled rooms that have modern amenities. The hotel is built within a beautiful tropical garden. Other facilities include an outdoor pool, sauna, spa, business centre and gym.
www.thuyduonghotel-hoian.com
Ho Chi Minh City: Signature Saigon Hotel
Signature Saigon Hotel is a brand new boutique hotel conveniently located in Ho Chi Minh city downtown and just 100 meters from Ben Thanh Market. We are a 3 star hotel in Saigon which offers 5 star services.
http://www.signaturesaigonhotel.com
Can Tho: Ninh Kieu Hotel
The hotel features 100 nicely appointed guest rooms, each including internet access and all the basic amenities. An affordable option in the heart of town.
www.ninhkieuhotel.vn
Trip Cost & Payment
Tour Includes:
Accommodation at selected hotels with daily breakfast. Check-in time is 2:00 PM and check-out time is 12:00 PM. Early or late service is subject to availability with surcharge.
Leadership of a Kirchoff Fitness Adventure Travel Trip Leader
Private English speaking guide
Fitness training, guidance and hiking prep for the trek, and cycling
Meals as mentioned
Tours and transfers as mentioned by air-conditioned vehicle
Sightseeing fees and permits during guided time
Boat cruises mentioned (group join-in for Halong)
Domestic Flight ticket (economy class - including all applicable taxes)
Bicycle gear and rentals
Bottled water
Service charge and current government VAT tax
Tour Excludes:
International Flight
VISA – Vietnam (Please make sure you have 6 months passport validity.)
Visa stamp fee at the arrival airport
Vietnam: $25 US
Laos: $35 US
Cambodia: $30 US
Visa approval letter will be provided upon request.
Early/late check in/out service at hotels (surcharge if request)
Tips and gratuities
Services and meals if not mentioned in itinerary
Laundry, telephone calls and expenditure of a personal nature
Travel Insurance (Strongly recommend)
Trip Cost
$3,500(10-12 members)
Payment Schedule
At time of reservation: $600
90 days prior to departure: $2900 (balance due)
Cancellation & Transfer Fee Schedule
Up to 91 days prior to departure: No charge!
61-90 days prior to departure: 25% of trip cost
46-60 days prior to departure: 50% of trip cost
45 days or less: 100% of trip cost
Travel Insurance
We will do everything possible to ensure a safe and enjoyable trip. However, all travel involves some degree of risk and we strongly recommend that you take out appropriate travel insurance for your adventure. Your insurance protection should include cover for cancellation, medical and repatriation expenses, personal injury and accident, death and loss of personal baggage and money and personal liability.